It goes without saying that email is an essential aspect of the modern business. No longer a helpful tool, it has become integral to how companies and people communicate, both internally and externally. Being as essential as it is, keeping your emails safe from prying eyes, and keeping your information protected, is also key to running your business, no matter the size or industry.
Email encryption services can help your company succeed, save money, and stay compliant with business standards and protocols. Here are just a few reasons why you need to send encrypted emails.
1. Client Confidentiality
In a world that is increasingly connected, privacy and confidentiality have become extremely important. For many modern businesses, especially business-to-business companies, having up-to-date security is integral to your business and its clients.
Encrypted email is just one of the ways you can help ensure your company has the right security protocols in place to protect your company, and your clients, from data breaches.
2. Increased Security
Imagine the following scenario: your website is hit with a DDoS attack, halting traffic heading to your website. In order to fix the problem, you request a password change for your server. That is sent to you through an unencrypted email, meaning that anyone looking at your inbox has access to that password, and now the backend of your entire website. Not only is your site compromised, but all of its data is in the hands of someone else. At best, this is an extreme liability; at its worst, the people who visit your site are now vulnerable, all because of a single email containing a critical password.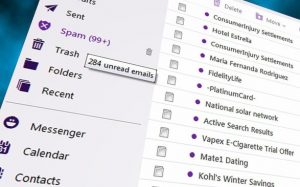 Email encryption helps to protect your company from these sorts of events, which can occur through a number of unintentional and intentional communications. Without the right protections, even a simple password reset email can end up as a far worse situation.
3. Secure Financial Transactions
We often think of inboxes as filled with communications and, as a result, tend to overlook just how much information is stored in those communications. We also tend to forget that things like bank transfers happen through our email accounts, and those can often be tied directly to our bank accounts. Regular, insecure email accounts leave you and your company open to people who are spying on and possibly stealing money and information related to your finances, and that can cause severe problems for your company's longevity and ability to remain financially stable. But encrypted emails can help stop people from learning your financial dealings through your communications, and thus can keep your company protected.
With our modern dependency on email, it is extra important that you take all of the steps necessary to ensure that this email is protected. After all, important and confidential information is transferred through email every day, and it is your responsibility to ensure that it is away from prying eyes.
If you are in the need for email encryption services, Securence can help. With our email encryption technology, we can provide the maximum security for your most sensitive email communications and protect your business.